4x4 Safari Lassithi/Preveli Tour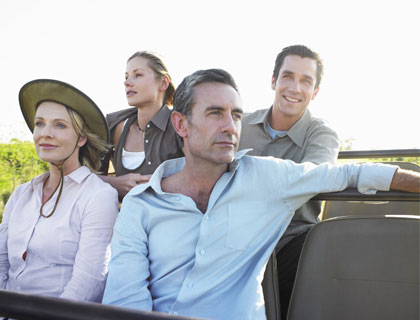 An ideal tour for outdoor adventurers organized by experts in active tourism. Discover the natural beauty and hidden secrets of the Cretan mountains, canyons and crystal clear seas.
Lassithi Route
Our route takes us high into the Lassithi Mountains where we go off-road in Crete's largest forest. At an altitude of 1,500 m above sea level our 4x4 adventure carries us through rough terrain, rivers and deserted goat pastures. On the Plateau of Lassithi you will enjoy not only the views but a fantastic BBQ lunch, including traditional dishes, salads, sizzling meat, bread and unlimited wine.
Later we continue on to the delightful Eco Village, which is a traditional life working museum where you can see how life and craft making were carried out in olden times. Nearby is the amazing Dikti Cave where, according to Greek Mythology, the God Zeus was born.
Hitting the dirt track once again, your Land rover convoy heads off to the village of Seli for more breathtaking scenery and action, followed by a stop at Krassi. Here in the village square is the famous and impressive Plane tree which is over 2,000 years old. Under its shady boughs you can take a refreshing drink of fresh mountain water from the natural spring.
Prevelli Route
Our route heads up into the Idi Mountains and a wilderness only found at high altitudes. Along the way our Land rover convoy passes through a number of tiny villages, rich in the character and charm of the real Crete.
At the highest point of our journey you will be rewarded with the most amazing views of one of the many magnificent gorges found on the island. At Spili you will visit the impressive springs, where 25 Lion head statues dating back from Venetian times, produce cool fresh mountain water all year round. Also in the village you will have time to browse the pretty handicraft shops and meet the local people.
Continuing on our way to the south coast, it's time to hit the dirt for some 4x4 action. Bumpy tracks and dusty trails are eaten away on this exciting trek, with panoramic views all around and the distant coastline getting ever closer. As we reach the twinkling Libyan Sea there is no way that we can escape a refreshing swim at one of Crete's most beautiful beaches – Preveli Beach. After all this fun and action whislt there, you will have worked up an appetite and here your all-inclusive lunch and unlimited wine is served and you can take a break in this gorgeous location right next to the sea.
The adventure is far from over as once again we climb back into the mountains for more dramatic scenery and fun whilst heading back towards the northern coast where you will enjoy a panoramic view of Rethymnon city from the vantage point of our mountain track only accessible to jeeps.
Please note that the route depends on the location of the accommodation guests are staying in. Guests staying in Agios Nikolaos and Kokkini Hani to Elounda will enjoy the Lassithi route. Guests staying in Agia Pelagia and Amoudara will enjoy the Prevelli route.
Please note:
Occasionally actual days of operation are subject to change. If this is the case we will endeavour to book a day as close as possible to your original preferred day. Should this not be acceptable a full refund will be made.
THIS TOURS IS ONLY AVAILABLE FROM MALIA/KOKINI HANI