Phuket Sea Kayak Adventure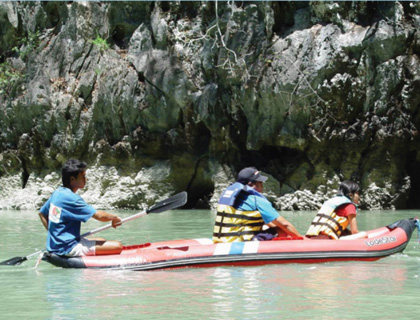 Spend the day canoeing with a skilled guide through the stunning Phang Nga Bay Marine National Park, home to dramatically beautiful limestone cliffs, sea caves, gorgeous beaches and 'Hongs' – fascinating cylindrical tidal lagoons discovered in the 1990's which are only connected to the outside world via stalactite-filled tunnels.
After being collected from your centrally located Phuket hotel, you'll head to the Phang Nga Bay Marine National Park.
You'll spend the day canoeing in the park, which featured in the James Bond movie, 'The Man with the Golden Gun', led by an informative professional guide.
In your time here, you'll see the towering limestone karsts which jut straight out of the emerald green waters, visit dramatic sea caves and the 'Hongs' which were discovered in 1990, and visit some of the bay's beautiful secluded beaches for swimming and snorkelling.
At the end of the day, you'll be returned safely to your hotel.