Coba Mayan Treasures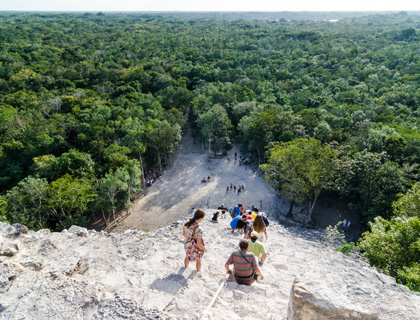 Visit the archaeological site of Coba, where the more adventurous can climb the pyramid of Nohoch Mul, the highest in the state. Discover the secrets of the mysterious Mayans and visit a small Mayan community to experience their day to day life. We also take you to an underground river cavern (Cenote.)
Live the experience of visiting the archaeological site of Coba, where you can climb the highest pyramid in the Yucatan Peninsula!
The Maya ruins at Cobá are unique in that they have been barely restored, merely cleared. Only a few of its estimated 6,500 structures have been uncovered, but the ones that have been are graceful and impressive. On these quiet and peaceful grounds it´s hard to imagine that Cobá may have once had the largest population of all the ancient Mayan cities.
Climbing the 120 stairs to the top of the Grand Pyramid at Cobá is well worth the effort.
Next visit a traditional Mayan community with a full explanation of the lifestyle and traditions of the Maya: constructions, cuisine, hunting, agriculture (harvest, jungle elements and products fruit trees, medicinal trees, mayan religion, fabrics, embroidery and pets.
After lunch our final stop is at the underground river cavern (Cenote). The Cenotes truly capture the natural beauty of this area as well as offer the perfect spot to cool down with a dip in the crystal clear waters. They are an extraordinary natural phenomenon that you would not want to miss.