Disneyland® Paris - Park & Transport From Paris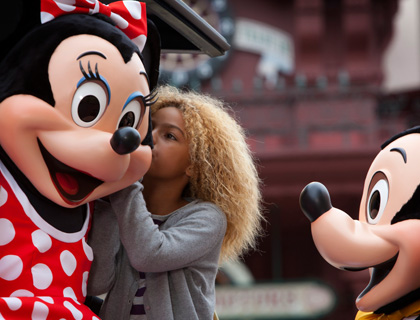 Step into a world of make believe and childhood dreams come true – step into the magical world of Disneyland® Resort Paris!
You'll meet some of your favourite Disney characters, enjoy parades, spectacular shows and exciting rides including Indiana Jones and the Temple of Peril, Pirates of the Caribbean and the awesome Big Thunder Mountain. And our great value Disneyland Paris tickets, exclusive to our UK customers only, mean you can enjoy all this and much, much more!
As well as much more magic, waiting to amaze and amuse. So whether it's your first time or your 20th you'll never have experienced a birthday like this before. And the unforgettable memories? They'll last a lifetime.
Disneyland Paris celebrates its 25th Anniversary in 2017!
Prepare to go starry-eyed as Disneyland Paris celebrates 25 years of magic with more sparkle than ever before. Classic tales shine brighter and lead the way to a dazzling display that's unmistakably Disney! April 12th 2017 marked 25 years to the day that Disneyland Paris opened its doors for the very first time. They're celebrating their silver anniversary all through the year, with a host of new attractions to make your visit in 2017 the most memorable one possible!
When you've Booked: You'll receive an initial confirmation from us immediately. We will then send your booking details to our local operator to confirm the availability. Within 48 hours, once they confirm that your requested date/ticket is available we will email your confirmation which will include the local operator's contact details and any further information.
Important Information: Children aged under 3 years old are FREE of charge. Please inform us at the time of booking if you have any children aged under 3 years old as they still require a reservation.