Eiffel Tower Tours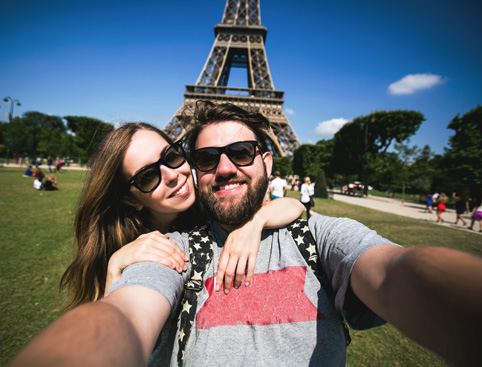 Our guide will take you straight to the second level while discussing the history, architecture, and fascinating stories about the Tower!
On this special access tour of the Eiffel Tower your expert, English-speaking, guide will reveal the stories behind her creation, near demise, and glorious rise to the top. You'll have a chance to enjoy her every curve from every angle and to understand the beautiful science that keeps her standing.
Highlights:
With our special access you'll head straight past the long entrance lines at the Eiffel Tower, potentially saving hours of waiting time!
Enjoy the most photographic views of the tower on a short yet informative walking tour.
During your visit of the Eiffel Tower, you'll enjoy the valuable insight of your English-speaking guide who will point out the city's major monuments as you explore.
Convenient audio headsets are provided when appropriate so you can always hear your guide.
A lady like no other
The Eiffel Tower was born a rebel. She's the most photographed woman in the world but if the critics had their way she would never have made her debut. Big, brash, and strong, she was like nothing anyone had ever seen before. Artists around the country worked tirelessly to stop her construction and then to bring her down but she would defy them all. She's a survivor; outlasting all of her critics, reinventing herself generation after generation and working her way from outcast to perhaps the world's greatest icon. It should have come as no surprise - the man behind her made a career of bucking the establishment; and Gustave Eiffel's great Tower would eventually be his crowning achievement.
Your guide will accompany you to the dedicated observation deck on the second level, from where they'll point out the marvels that lay at your feet. From here, take in iconic sights such as the Arc de Triomphe, the Champs Elysees, and Notre Dame while enjoying your guide's insightful and entertaining commentary.
After touring Paris from above, you will have the opportunity to buy a ticket to the summit if you so wish. Join us as we explore the beauty and history of the Eiffel Tower. Love her or hate her, there's no doubt that even at over 120 years old, she still knows how to put on a show.
Please note that due to the very popular nature of this tour there is very limited availability so please hurry and book your Eiffel Tower experience whilst you can!