Nerja & Frigiliana Tour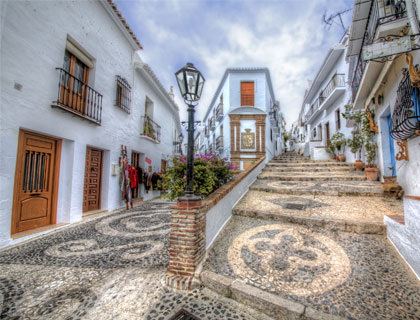 This coach tour takes you on a scenic drive along the Costa del Sol coastline to the pretty Andalusian village of Frigiliana, home to colourful houses set in narrow cobbled lanes, and to Nerja, which is home to the famous Balcon de Europa viewpoint.
Relax and enjoy the picturesque journey along the Costa del Sol coastal highway and through several quaint Andalusian 'white villages' to your first destination, the pretty village of Frigiliana.
Whilst here, you'll visit Frigiliana's old fortress which was the last stronghold of the Moors who once ruled the region and has now been converted into a molasses factory. You'll also have time to browse the shops which offer a wide range of goods from local pottery and fresh fruit to the sweet Malaga wine.
Your next destination is the coastal town of Nerja, originally a small fishing village, which has become one of the most popular destinations in Malaga. You'll see the old quarter of the town with its winding streets and cobbled pathways mixed with boutiques and restaurants.
You'll head up to the Balcon de Europa next. Situated on a rocky promontory and once a fortress to keep pirates and marauders at bay, the Balcon offers spectacular views along the coastline.
Enjoy free time to explore Nerja at your own leisure before beginning the return journey.
Please note: Occasionally actual days of operation are subject to change. If this is the case we will endeavour to book a day as close as possible to your original preferred day. Should this not be acceptable a full refund will be made.
Please note infants aged 0-3 are not allowed to travel free of charge on this tour as they are legally required to have their own seat. To add an infant to the booking and find out the coast, please call 0371 700 888.
Please note the supplier will not provide child seats and your will need to make your own arrangements.