Big Bus Tours Sydney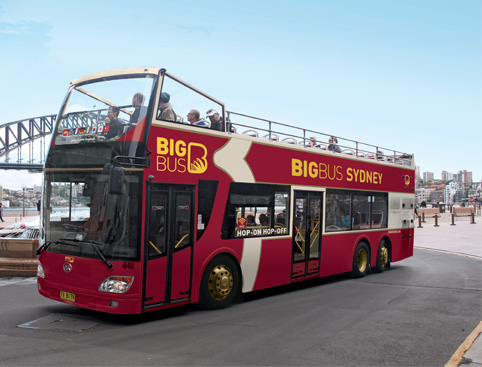 Experience all the excitement of Australia's famous harbour city aboard the Big Bus Sydney and Bondi Beach double decker buses. Choose from of our 3 tickets designed to give you a great overview of this fantastic city.
You will see all the major landmarks and highlights of Sydney. The Sydney tour is the perfect introduction to the dynamic city showcasing the iconic landmarks such as the Sydney Harbour Bridge, the Sydney Opera House and the majestic Sydney and Darling Harbour. You will pass bustling shops, restaurants and attractions set amongst Colonial, Victorian and postmodern architecture. Don't forget to hop off the bus at any stop you like to take a close up look at what takes your eye and then simply hop back on when you are finished.
To compliment the Sydney tour, the Bondi Beach route lets you into the Australia beach culture, on the way to the world famous beach, you will pass by cosmopolitan shopping and dining precincts and also Centennial parklands which is one of Australia's most picturesque and beautiful parks.
The Hop-on, hop-off function enables you get on and off all around the city so you can visit the exciting places at your leisure and then re-join the tour when you are finished.
On top of this, the Deluxe ticket features added extras (to be enjoyed within the 48 hours) to make sure you make the most of your time in Sydney:
1 hour Harbour Cruise
Admission to the Sydney Tower Eye Observation Deck OR Madame Tussauds!
Free WIFI!
Please Note: Inclusions are subject to changes and alternatives are not available.
To view route map, please click here