Knossos & Heraklion City Tour - From Malia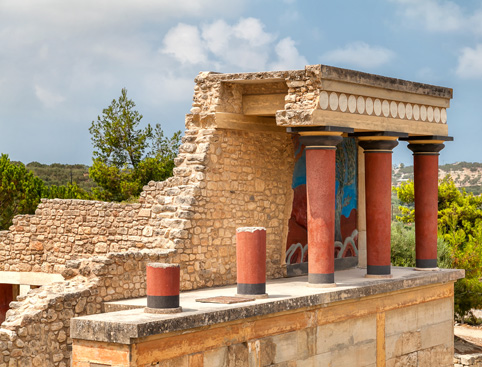 Let us take you back 4,000 years in time! To the world famous Minoan Palace at Knossos, the home of the legendary King Minos who gave his name to Europe's oldest civilization.
A visit to Crete is incomplete without visiting the renowned Minoan Palace of Knossos and the town of Heraklion, the capital of Crete.
According to Greek mythology, the monstrous Minotaur – half man, half bull – lived at Knossos and fed on human flesh and bone. He was eventually slayed by the brave and mighty Athenian prince, Theseus, within the hidden Labyrinth.
Parts of the ancient Palace have been excavated and reconstructed by the British archaeologist, Sir Arthur Evans, and today one can get a clear understanding of the function of the Palace and its complicated and mystical Labyrinth. Led by your experienced and official guide, you will visit the Throne Room, the Royal Apartments, the Central Courtyard with its shrines and other fascinating areas within the Palace, you will learn the history and myths surrounding this wondrous and most interesting site.
Included in this tour is a visit to the capital city of Crete, Heraklion, where your guide will be happy to take you on a short orientation through the historical centre. Here you will have free time in which to visit the Venetian fountain at Lion Square, the Loggia, the cathedral of St. Titus and the Venetian Fortress at the fishing harbour.
Also, don't miss a visit to the lively and atmospheric market in 1866 Street, where souvenir bargains may be found.
Heraklion is city of contrasts, where ancient history and cosmopolitan modern life combine to create a charming mix.
Knossos Palace Entrance Fee is not included. Fee is to be paid locally and it is approximately 15€ for guests 18 and over, under 18's are free. Please note this is subject to changes from the Greek Government.
THIS TOURS IS ONLY AVAILABLE FROM MALIA/KOKINI HANI