Marmaris Day Trip - From Rhodes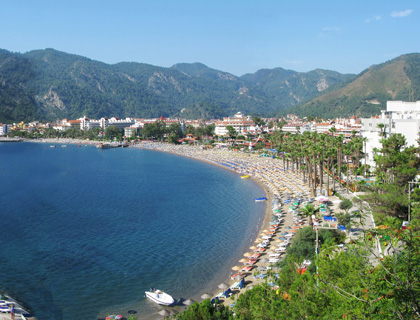 Discover a foreign culture and a different country in a day! We sail by catamaran to Marmaris, Turkey to explore this popular resort and see its beautiful red covered houses surrounded by green mountains and the Bay of Mermaids.
You will be picked up at your hotel and arrive at Rhodes harbour. Please remember to take your passport with you as you will be visiting another country!
After only one hour trip with a hydrofoil Catamaran you reach the coast of Asia Minor, Turkey. After security checks, we can enjoy the city before you hit the shops with a visit to the Gold Centre, where you will be told about the hand made art of gold and for the opportunity to bag a real bargain!
Feel the exotic atmosphere, the oriental sounds and the smell of the spices. Enjoy the atmosphere in the narrow streets around the bazaars, the boutiques, art shops, the jewellery and the leather and carpet shops.
Finally, enjoy some free time at the bazaars, explore the harbour and enjoy some lunch before you return to Rhodes.
Important: Please note this although a visa is not necessary for day trips we require you to email all customers passport details to our supplier before travel. Please call to book. We will need full details (name, sex, date of birth, passport number & nationality). If the above information is not received clients will not be accepted for this trip.
Passport or ID card must be taken to Turkey as will be needed upon entry.
Port taxes are not included and are €15pp Adults/ €2pp Children (0-5 yrs).
Please note: Occasionally actual days of operation are subject to change. If this is the case we will endeavour to book a day as close as possible to your original preferred day. Should this not be acceptable a full refund will be made.