Marrakech, Souks And Medina Tour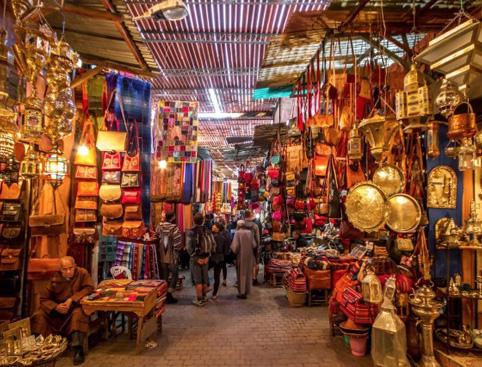 Visit some of the most enticing souks in Morocco. A souk can mean either a single market stall or, as in this case, a whole bustling labyrinth of stalls selling everything from rugs and spices to leather goods and love potions.
To start the tour in a colourful way, your first visit is one of the famous gardens of Marrakech, Jardin Majorelle, Jacques Majorelle, where the famous French painter settled down in 1919 (rip 1962) in Marrakech to continue his career. In 1947 he decided to open his garden to the public. In 1980 Pierre Bergé and Yves Saint Laurent repurchased the garden and restored it.
After this calming visit be prepared to enter the world of Souks. In this labyrinth of narrow streets protected from the sun you will find an amazing amount of different handcrafts. You will find here souks of ironwork, dried fruit, spices, clothes, carpets, skins, leatherwork, ironwork, jewellery and more.
Highlights of the tour:
Guided tour of Marrakech
Visit of Jardin Majorelle
Souks
Visit of the famous Djemaa El Fna square
Please note:
Occasionally actual days of operation are subject to change. If this is the case we will endeavour to book a day as close as possible to your original preferred day. Should this not be acceptable a full refund will be made.