Morning at the Zoo with Breakfast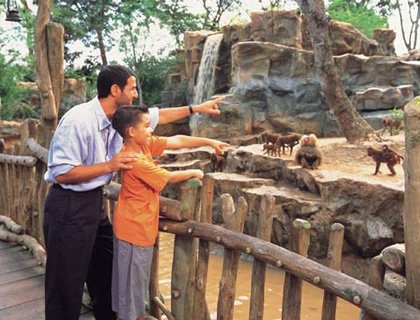 Leave the hustle and bustle of the city behind and head to Mandai for a morning visit to Singapore Zoo where you can enjoy a tasty 'jungle breakfast' among some of the zoo's most fascinating inhabitants! This tour is popular with families of all ages and places go fast, so don't miss, book now!
One of the most beautiful zoo's in the world, Singapore Zoo is spread over 28 hectares and is home to more than 3,600 mammals, reptiles and birds, many of which are rare or endangered species. Natural barriers like streams, rock walls and beautiful landscaping are used to separate the animals from visitors thus creating an 'open zoo' effect. Come and experience a close brush with nature from the comfort of your tram and on foot!
Many of our animal habitats incorporate special viewing features such as elevated platforms to view our giraffe exhibit, underwater galleries to see the watery worlds of our otters, pygmy hippos and giant estuarine crocodiles, as well as glass observatories to see animals such as the predatory cheetahs and lions. On top of the fascinating perspective of the animals, you get to view them in environments that have been thoughtfully built and landscaped after their habitats in the wild.
Having had an early start, you'll be ready for breakfast, but you'll never have had breakfast in company like this before!
You'll enjoy your 'Jungle Breakfast' with special animal appearances! The orang-utan, cotton-top tamarin and the magnificent reticulated python will perform amazing stints as you savour breakfast from a selection of popular items!
Restrictions:
This tour is not suitable for wheelchair users.
Recommendations:
Dress for this tour should be casual, comfortable light summer clothing.
We recommend you take an umbrella and some water.