Niagara Falls Boat Tour - Hornblower
Niagara Falls Boat Tour - Hornblower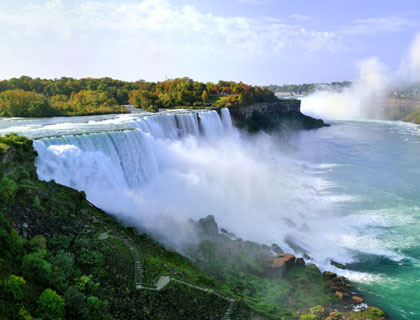 This grand new boat tour of majestic Niagara Falls takes place aboard a Hornblower catamaran.
The tour provides up-close viewing of the waterfalls of Niagara Falls for an extraordinary experience you will never forget.
The Voyage to the Falls boat tour provides an up-close viewing of the magnificent Great Gorge, American Falls, Bridal Veil Falls and of course the mighty Horseshoe Falls.You'll experience the thundering roar, awesome power and amazing mist of the magnificent Niagara Falls.
This experience includes access to the Lower Landing and Falls viewing Platform area.
Please note:
We often get asked if British Nationals need a Visa or other travel documents to view the Canadian side of the Falls. Only British citizens travelling to Canada by air will need an Electronic Travel Authorization (eTA) from 15th March 2016 onwards.
Please click here for the most recent Visa information on all nationalities visiting Canada.