Niagara Falls (5 hrs tour)
Niagara Falls (5 hrs tour)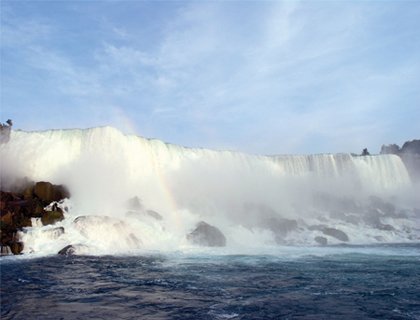 Enjoy a scenic drive along the Niagara Parkway with stops at the Floral Clock, Niagara Glen and the Queenston Heights. It's not hard to be impressed when you're standing close to over 500,000 litres of falling water falling all at once!
And impressed you will be, on this exciting visit to one of the world's most spectacular natural attractions - Niagara Falls.
Highlights of the Tour:
Niagara Boat Ride*
Floral Clock
Niagara Glen
Queenston Heights
Lunch
Spend time splashing out on a nice lunch and explore the shops and attractions of the historic, scenic town of Niagara-on-the-Lake. Enjoy an opportunity to unwind and experience the fantastic heritage of this popular tourist destination.
*During the winter period from around mid November, the ice makes a Niagara Boat Ride impossible and during this time, your boat ride will be replaced by the Journey Behind the Falls experience.
Please note:
You must specify which hotel you are booked at when ordering this tour. We pick up from all Niagara Falls Hotels.
We often get asked if British Nationals need a Visa or other travel documents to view the Canadian side of the Falls. Only British citizens travelling to Canada by air will need an Electronic Travel Authorization (eTA) from 15th March 2016 onwards.
Please click here for the most recent Visa information on all nationalities visiting Canada.