Selvatica Extreme Adventure - from Cancun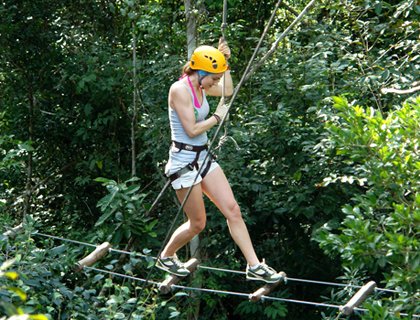 Selvatica's Extreme Adventure Family Tour is recognised by Travel & Leisure magazine as "one of the 35 great adventures in the world!"
Your first activity will be the world-class extreme canopy tour (longest zip line circuit in north America), which exceeds all international safety standards and can accommodate guests from 3 to 93 years old! Trained staff will equip you with a harness, security pulley, helmet and gloves. The circuit includes 9 zip lines which allow you to fly through the air past beautiful birds, plants and animals.
Then make your way through the incredible Mayan jungle on an army truck to explore a hidden grotto. Next, you'll arrive at the Green Light Cenote (watering hole), an open space where you will find a zip line and a cliff diving platform, both designed to land you right in the refreshing waters of the Cenote. It's a fun way to cool off and finish your journey!
At the end of this refreshing experience, head back to the Palapa (palm tree beach hut) for a light lunch consisting of flavoured water and a baguette or chicken fajitas (menu items may vary and can be accommodated to special needs).
Departures are available from Monday to Saturday at 9:00am, 10:30am, 12:00pm and 1:30pm.
Important Information:
For safety reasons, pregnant women, people with back pains or heart problems may not participate.
Maximum weight 330lbs (23.6 Stone). Maximum waist size 47in.
Minimum weight to do Tarzania: 99lb (7.1 Stone). Maximum weight to do Tarzania: 243lb (17.4 Stone).
Minimum age of 16 years to drive a motor vehicle