Shipwreck Tour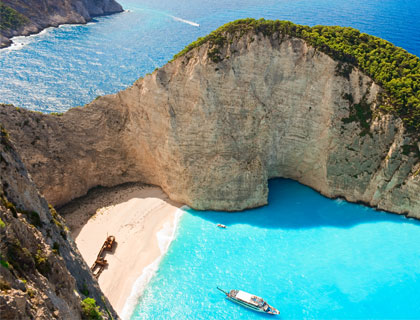 Centred around the most famous beach in Greece, this half day trip starts with a coach journey to the beautiful bay of Porto Vromi.
From here you'll board a boat for a 30 minute journey into the bay itself to visit the fantastic Shipwreck. You'll have time to swim and explore the wreck for an hour or so before returning to Porto Vromi to see the rock formation known as Poseidon's face and discover the nearby caves.
Lunch (not included in the price) at a traditional mountain taverna provides the perfect end to a delightful morning.
Please note: Occasionally actual days of operation are subject to change. If this is the case we will endeavour to book a day as close as possible to your original preferred day. Should this not be acceptable a full refund will be made.
IMPORTANT NOTICE
Landslide at Shipwreck Beach (19/9/2018). Tours are still going ahead, however the coastguard are not allowing anyone to access the beach at present, however this is due to reopen in May 2019. It is likely there will be localise disruptions during May and while the boat will stop at the bay for pictures if the beach is closed, the swimming stop will be elsewhere until is safe to return to the beach.