Skylon Tower Elevation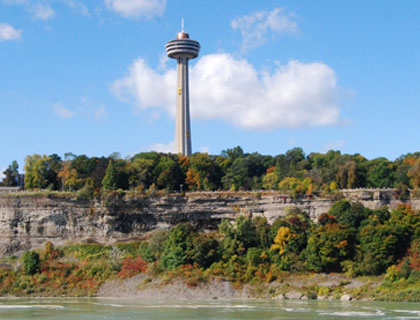 Visit the world-famous Skylon Tower at Niagara Falls! Located in the heart of the Niagara Falls hotel, dining and entertainment district The Skylon Tower is the must see landmark next to the Falls.
Your general admission will offer a smooth glide up to the top aboard our exterior glass-enclosed "Yellow Bug Elevators" in just 52 seconds where you will enjoy spectacular views of Niagara Falls, the Great Gorge, Niagara wine district and the city skylines of Buffalo, New York and Toronto. This Indoor/Outdoor Observation Deck is one of the favourites when visiting Niagara Falls.
There's fun for the whole family at the Skylon Tower as it offers other attractions such as the 3D/4D Falls Movie "Legends of Niagara Falls" and the Family Fun Center which promises great entertainment for all ages! (Extra charges apply for attractions which are payable locally and are subject to age/height/time and operation restrictions.)
The Skylon Tower also offers 2 great levels of Niagara fine dining - both 775 feet above the Falls! Choose from our world-famous Revolving Dining Room restaurant and savor award-winning continental cuisine or select our family-affordable Summit Suite Buffet Dining Room restaurant. The Skylon Tower certainly offers Niagara Falls' best dining value! The Main Concourse boasts discount shopping and quick services restaurants too.
The Skylon Tower is always the highlight of any Niagara Falls visit. Come see for yourself!
We often get asked if British Nationals need a Visa or other travel documents to view the Canadian side of the Falls. Only British citizens travelling to Canada by air will need an Electronic Travel Authorization (eTA) from 15th March 2016 onwards.
Please click here for the most recent Visa information on all nationalities visiting Canada.