The Kalypso Experience and Corfu Town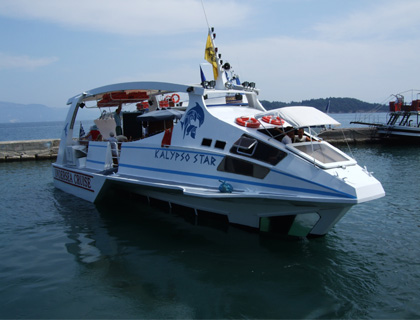 This tour offers you the chance to see Corfu Town from land and sea. The bus will take you to Corfu Town and stops at the Old Port, in the heart of the city and a few meters away from your boat, the Kalypso Star.
We will follow a route that takes us behind the island of VIDOS and all the way around and to the other side of the Old Corfu town. During the cruise, you will be able to enjoy the beauty of the ocean floor and the plethora of marine organisms that live in it, accompanied by imposing music. While behind Vidos island, the ship will make a stop while divers offer a unique show, swimming between the fish, feeding them and showing the you the various species of the local undersea fauna, like starfish, octopuses, lobsters and more. Moving on, the cruise takes us around Vidos island, where a Serbian mausoleum lies. We sail close enough in order to admire the Old Fortress, with the church of St. George and finally, just before the return to the old port, we can admire the full view of the old town, along with the Palace, Kapodistrias manson, Faliraki and the New Fortress.
Please note: Occasionally actual days of operation are subject to change. If this is the case we will endeavour to book a day as close as possible to your original preferred day. Should this not be acceptable a full refund will be made.