Zante Island Tour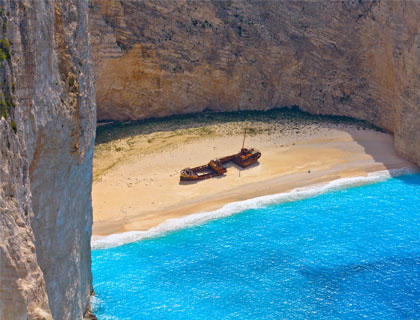 Take a tour of the island during your holiday to Zakynthos and see the best of what this beautiful part of Greece has to offer. With a visit to the famous Shipwreck included there will be plenty of photo opportunities during this full day excursion.
You will take a scenic drive to the first stop of the day above the resort of Alykes, where you will stop for photos – from this vantage point you can see nearly all of the island as well as the neighbouring Island of Kefalonia on a clear day.
You will then head to the village of Anafonitria where you will visit the monastery, and there will also be a break for refreshments if you wish – make sure you bring along some money.
The next stop on the tour is a local shop where you can take the opportunity to purchase local products.
It is then that you will head off to see the Shipwreck Bay. From the viewing platform here you will be able to take plenty of photographs of this famous site.
From here you will head to the village of Volimes where once again you will have the opportunity to browse the local stalls. There is also a stop in the village of Exo Hora to see a rather unusual tree (another photo opportunity) and you will then have a lunch stop in a beautiful mountain tavern (lunch not included).
After lunch the tour will begin to make its way back with another stop for photographs en-route.
This is a fully guided excursion by English Guide.
Please note: Occasionally actual days of operation are subject to change. If this is the case we will endeavour to book a day as close as possible to your original preferred day. Should this not be acceptable a full refund will be made.