Abu Dhabi City Tour - From Abu Dhabi
Abu Dhabi City Tour - From Abu Dhabi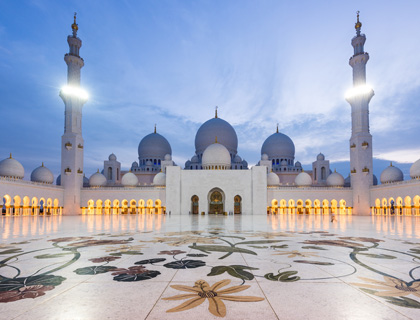 This tour offers an ideal introduction to the heritage and culture of Abu Dhabi city.
Departing from our hotel in the morning your first stop is the fascinating Sheikh Zayed Mosque for an inside visit of approx. 45-minutes.
Sheikh Zayed Mosque in Abu Dhabi is the largest mosque in the United Arab Emirates and the eighth largest mosque in the world. It is named after Sheikh Zayed bin Sultan Al Nahyan, the founder and the first President of the United Arab Emirates, who is also buried at this location.
The Mosque is large enough to accommodate 40,000 worshippers. The main prayer hall can accommodate up to 9,000 worshippers.
Two rooms next to the main prayer hall, with a 1,500-capacity each, are for the exclusive use of women. After your mosque visit continue the drive to see the Heritage Village, Here culture and traditions of the Emirate are reflected in recreated village scenes that provide a glimpse into the simple life and times before the discovery of oil.
You can see mud-brick houses, a traditional mosque and a market.
When you've Booked: You'll receive an initial confirmation from us immediately. We will then send your booking details to the supplier to confirm the availability. Within 48 hours, once they confirm that your requested date/ticket is available we will email your confirmation which will include the local operator's contact details and any further information.