Atlantic Adventure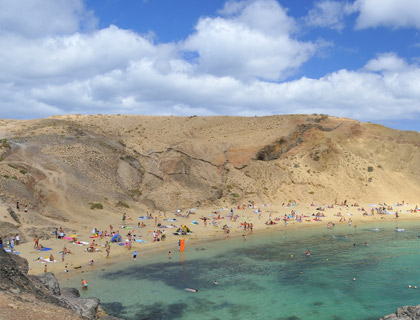 Make the most of your holiday - come and experience a fabulous midday adventure! Enjoy a refreshing swim in the "Ajaches" Natural Park and feel the sheer thrill of riding on a super-quick speed boat with the wind in your hair.
Alternatives include kayaking or if you'd like to relax, spend time on a giant floating sunbed. There are also lots of fun and games on offer to keep the little ones happy. The excursion departs from Playa Blanca harbour aboard the glass bottom catamaran. Sailing out to sea, keep your eyes peeled and camera ready for the fabulous marine life.
Continuing along the coastline you'll drop anchor at the beautiful beaches of Papagayo, where you will be able to relax, sunbathe and snorkel. The speed boat ride is an optional extra. Lunch (chicken & chips, salad and bread) is provided during the trip and sangria, beer and soft drinks are free from the onboard bar.
Before returning to the harbour, the boat will stop for you to enjoy viewing marine life and the underwater volcanic environment through the glass bottom. You will arrive back at approximately 4pm.
IMPORTANT NOTICE Passports will have to be taken on the day of the excursion. Failure to do so might mean clients are not allow on the tour.
Please note: Occasionally actual days of operation are subject to change. If this is the case we will endeavour to book a day as close as possible to your original preferred day. Should this not be acceptable a full refund will be made.