Catamaran AfriKat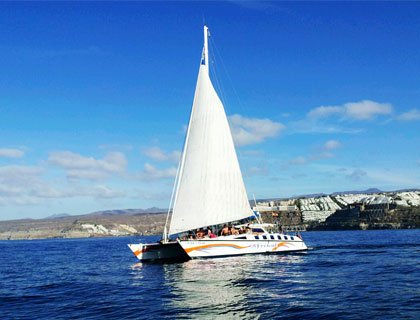 Enjoy a fantastic time at sea and take in the amazing view of the Canarian Coast and the crystal clear waters. During your trip you will have the opportunity to visit a sea cave, swim in the crystal waters of the Canary Islands and enjoy one of the best climates in the world.
You will pass by the Port of Mogan, the beautiful fishing village, known locally as "Little Venice". If the weather conditions are right, we put up our sail and glide along the ocean hugging the coastline. Onward bound, we head along the protected coastline, towards a calm crystal clear bay, "El Perchel". Here you can enjoy a dip in the refreshing water, try snorkelling, or other water sports at a 50% discounted rate, or a fun ride in our speedboat, taking you up close to the amazing sea caves.
Time for something to eat!! Our crew will prepare traditional potatoes served with "Mojo" sauce, meatballs, a choice of two salads and bread rolls.
Our crew will also serve you a choice of Sangria, beer, soft drinks or water throughout the day.
Join for either our daytime cruise, from 9.15am to 2.30pm, or, during Summer (June to October), the afternoon cruise from 3.30pm to 8.30pm. From June the afternoon cruise shall be the only departure time available.
Please note: Occasionally actual days of operation are subject to change. If this is the case we will endeavour to book a day as close as possible to your original preferred day. Should this not be acceptable a full refund will be made.