Ephesus Trip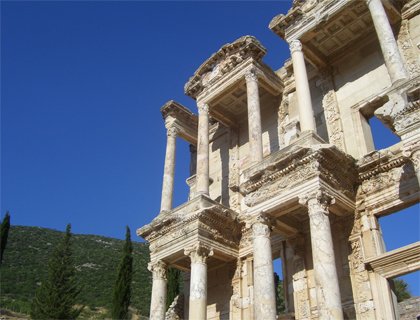 Ephesus is not only the best preserved classical city in the Eastern Mediterranean but one of the most wonderful places in the world to 'soak up' the atmosphere of Roman times.
Walk along the well planned streets to the first temple dedicated to a Roman Emperor - the ancient Iatrina. See mankind's first road sign - showing the direction to a brothel - and take in the sight of the huge Ephesus theatre.
Relive the days of Julius Caesar who would have spent many evenings sitting in the grand theatre cheering on the gladiators of the day or watching the local thespians at work.
Visit the site of the 'House of the Virgin Mary' where she is said to have spent her last days.
Please note: Occasionally actual days of operation are subject to change. If this is the case we will endeavour to book a day as close as possible to your original preferred day. Should this not be acceptable a full refund will be made.
Excursion Days: Thursday & Sunday.
Duration : Full day
Includes : Breakfast, lunch, all entry fees, transfers, guides.
Does not include : Drinks
Restrictions : None
Pick up time : 06:15 - 06:40
Drop off time : 20:05 - 20:20