Gatorland Zip Line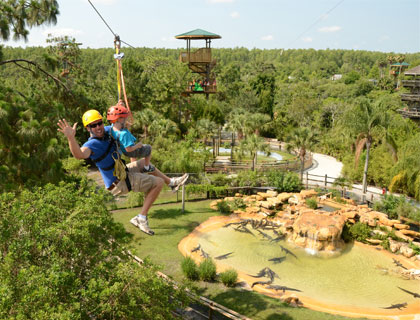 Clip in and "zip" off on an exciting outdoor adventure with the all-new Screamin' Gator Zip Line at Gatorland!
Your journey will take you along 1,200 feet of high flying, heart pounding adventure from some of the finest zip line towers in the world. Standing over seven stories tall, these amazing towers feature multilevel launch pads and breathtaking views from high above the treetops.
Soar through the air and defy gravity over some of the theme park's star attractions--including Cuban and Nile crocodiles--before heading over the Alligator Breeding Marsh, complete with one hundred and thirty giant alligators watching from below!
The Screamin Gator Zip Line features:
Launch from heights of up to 65 feet
Soar across five intense zip lines ranging in length from 230 feet to more than 500 feet, and carefully cross a swinging bridge over the park's main walkway.
Fly at speeds near 30 miles per hour over alligators and crocodiles.
Equipment (helmet, gloves and harness) provided.
Just minutes from area hotels, theme parks, and the Orlando International Airport
This incredibly entertaining and educating 2 hour experience begins with a brief safety and orientation session. The best part is that this experience includes all day admission to Gatorland, The Alligator Capital of the World.
All adventures are led by highly trained guides who love to share stories and myths about all of the critters who call Gatorland home. Our guides are the best in the world! Prepare to experience Gatorland from a view point previously reserved for our fine feathered friends!