Mount Teide Guided Tours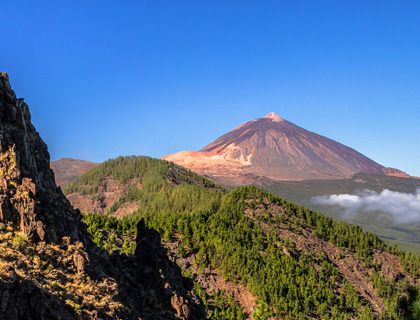 Discover the impressive Teide National Park on our two magnificent tours through mountain roads, typical Canary villages, and unparalleled landscapes and enjoy the most amazing views from the top of the cable car station.
Teide Half Day Tour
Taking a different route to many of the Mount Teide tour coaches, you'll travel gently up to the pretty village of Vilaflor, the highest village in Tenerife. Continuing up the mountain you reach the National Park of Las Cañadas where the extraordinary landscape could not be more different to the beaches of the coast.
The park is effectively one huge crater with an area of approximately 130 square kilometres, from the middle of which rises the magnificent Mount Teide to a height of 3717 metres. This makes Mount Teide the highest peak in Spain.
We stop for a break at the highest restaurant in Spain and if there is time (queues and wind permitting!), you can take the modern cable car to just below the tallest peak. The journey and views from the cable car on the way up and down are breath-taking on a clear day ( extra cost and optional).
The Cable car tickets must be prebooked in advance - on the day purchases are not possible as this ticket is usually sold out.
From here we travel on across the crater and on towards Los Gigantes with its famous cliffs and lovely harbour from where we return you to your resort via Playa de Arena, along the scenic coastal road.
Teide Full Day Trip - Including Cable Car Ticket
Discover the Teide National Park and its striking landscapes -A magnificent tour through mountain roads, typical Canary villages and breath-taking landscapes. You will be accompanied by an official guide who will show you the Teide National Park's most iconic places.
During this tour, you will be able to see different kinds of plants and a large variety of landscapes, until you reach the interior of the crater at the base of Teide, which has a 75 km circumference. You will visit the famous Roques de García and the spectacular Llano de Ucanca, lava rivers and an endless variety of natural curiosities which exist in the park. Visit this unique place and explore the volcanic roots of Tenerife.
Then, a visit to Teide Cable Car in Teide National Park, a great trip to Spain's highest volcano. Live the experience of gliding over a geological gem where volcanoes, craters and lava flows form an impressive palette of colours and volcanic shapes you won't find anywhere else in the world.
Important Information: The ascent by Cable Car is not recommended for people with heart problems, pregnant women, or children under 2 due to the risk that high altitude poses to their health. Consult your doctor before planning your visit.
Please note:
CHILDREN - while they can travel for free on these tours if aged 2/3 they still need to be accounted for so please remember to include them in your booking by calling us on 0371 700 8888
Occasionally actual days of operation are subject to change. If this is the case we will endeavour to book a day as close as possible to your original preferred day. Should this not be acceptable a full refund will be made.