Hoover Dam Premium Tour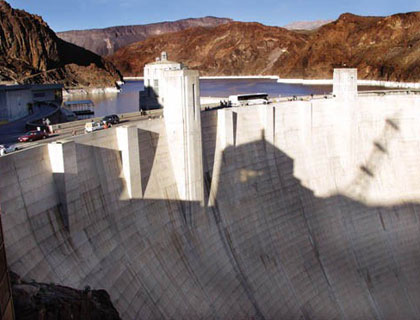 The Hoover Dam is the number one sightseeing attraction for people visiting Las Vegas. One of the seven wonders of the modern world, the Hoover Dam has been called the "greatest Dam ever built."
It is a National Historic Landmark and stands as a testament to the thousands of men, women and families who came to a harsh and barren land and, in less than five years, built a world renowned structure which changed the future of the west.
First stop, is a photo opportunity at the Hoover Dam Bypass Bridge, which offers a fantastic view of the Hoover Dam. Continue on to the Hoover Dam where you will have 2 hours on site to see the theatre, check out the exhibit rooms, observation deck, Visitor's Centre and museum or simply stroll across the Dam to Arizona!
En route back to Las Vegas, you will travel through the historic Boulder City which was built to accommodate the workers of the Hoover Dam in the 1930's and has retained much of the small town charm. It is the only city in Nevada where gambling is not legal!