Lobos Catamaran Day Trip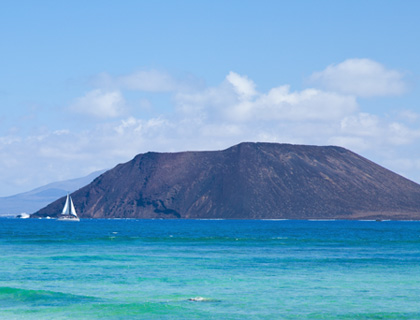 Enjoy an unforgettable day of sailing on board a luxurious catamaran from Fuerteventura to its closest island neighbour " Isla de Lobos" for a day of fun and frolics in the sun and sea!
You will be collected from your resort and taken to the ferry port of Corralejo where you will depart on the luxurious Freebird catamaran to the paradise island of Lobos.
On this expedition you'll search for dolphins and whales, which are usually seen in these waters, giving you an opportunity to experience the exciting world of marine fauna living in their natural habitat.
Once in Lobos we will anchor at one of its wonderful beaches where you can swim and snorkel (equipment available), relax in the sun, enjoy a delicious lunch (pasta salad, mixed salad, Spanish omelette, tuna pies + bar free drinks: water, juices, soft drinks, beer, wine and sangria) and visit the Isla de Lobos.
Please note: Occasionally actual days of operation are subject to change. If this is the case we will endeavour to book a day as close as possible to your original preferred day. Should this not be acceptable a full refund will be made. Please note menu is subject to changes.
IMPORTANT NOTICE: DUE TO LAW INFORCEMENTS FROM THE SPANISH GOVERMENT DISEMBARKING TO VISIT TO LOBOS ISLAND IS NOT LONGER PERMITED GIVEN THAT THIS IS A NATIONAL PARK AND THEREFORE PROTECTED AREA