Open the Gate to Chichen Itza ® Tours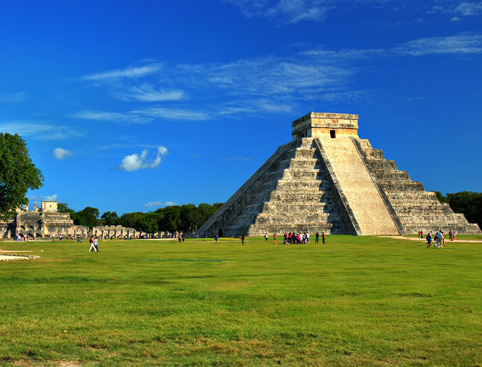 Be among the first to enter the temples, as the park opens from our PRIVATE entrance at the Mayaland Resort which is located INSIDE the Chichen Itza archeological park. Enjoy the magic of being amidst the temples by yourself!
Our unique experience begins with a sunrise Mercedes Benz pick up at your hotel before 6am. We start purposely early so you are the first to arrive at the site and so you avoid the crowds and the heat!
You will meet and be spiritually enriched by a High Maya Priest and partake in a "soul enhancing" ceremony before entering to Chichen Itza.
Upon arrival at the park, our Certified Archeology Historian will greet you and your party. Each participant will visit the temples in solitude and enjoy the site before any other visitors arrive, most of them over two and a half hours later.
End the tour by enjoying a delicious all you can eat buffet which offers you a variety of Mexican, Yucatan, Maya and Continental Cuisine, complete with every imaginable local delicacy!
PLEASE NOTE: Admission fee into the archaeological site is NOT included and will be payable upon entrance. This is $481 Pesos which is only approximately £20 per person. This fee is governed by the local municipality and our tour providers have no control over this.