Pirates Adventure Dinner Orlando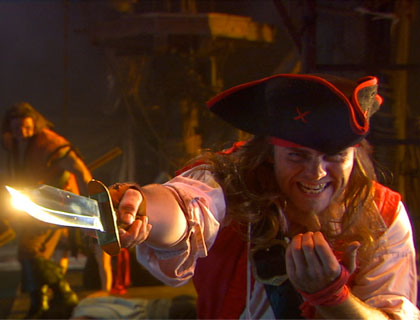 The Orlando attraction that has it all. Families can become part of these two epic and interactive dinner shows at Pirate's Town!
Pirate's Dinner Adventure
Set aboard an authentically replicated 18th-century Spanish galleon measuring 46 feet long, 18 feet wide and with 40-foot masts, the ship is anchored in a 300,000-gallon indoor lagoon with night sky lighting. Surrounding the lagoon is a six-sided showroom of six additional ships where the audience is seated.
Voyagers on each of the six ships have their own fearless pirate mascot whom they cheer on as the adventure unfolds. Each ship has a cast of a dozen actors, singers and stunt performers engaging in a bounty of action-packed exploits, accompanied by cannon blasts, pyrotechnics and plenty of laughs.
The Pirates Adventure feature show 'Rise of the Sea Dragons', which is based on the legendary Captain Sebastian The Black trying to get a Treasure so large it is guarded by an angry Sea Dragon. See what this evil villain will sacrifice in order to get his hands on it ...