Quad Safari Double (2 people) - from Marmaris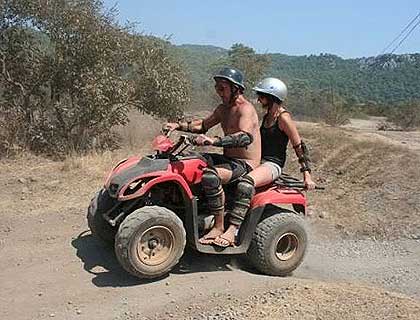 Would you like a true off-road safari experience on the very latest of powerful quads? Here is your chance to escape from Marmaris and enjoy an off-road adventure on a Quad/Buggy Safari.
Travel up into the mountains with spectacular views on the way to the forest. On arrival you are given full instructions on handling the quad/buggy and all safety equipment is provided. First you will start with a short "test run" to establish your confidence, then its off for a half hour journey through the riverbeds and forest.
Next, head to the practice track where you'll speed things up a little as you race around the track. After all the fun, enjoy your lunch whilst watching a DVD of your day. The DVD can later be purchased if desired.
Excursion Days: Every day.
Duration: 3 Hours.
Includes: Transfers, quad, equipment & instruction.
Does not include : Drinks, extras, DVD.
Restrictions: none.
Pick up time : 08:45 - 09:05
Drop off time : 11:30 - 12:05
Please note: Occasionally actual days of operation are subject to change. If this is the case we will endeavour to book a day as close as possible to your original preferred day. Should this not be acceptable a full refund will be made.