Sail By Catamaran To Isla Mujeres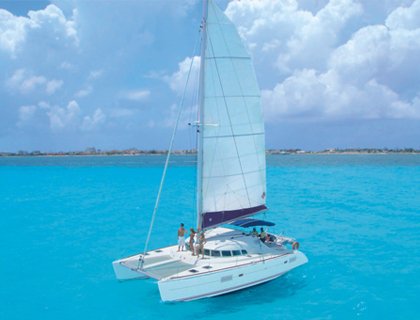 Set sail into the turquoise Caribbean Sea headed for, "Isla Mujeres." Request your tropical drink of choice from the bartender, relax in the shade of the sails or enjoy the unique experience of stretching out at the bow of the ship, across our open netting, the only thing between you and the beautiful Caribbean Sea!
Enjoy the views as cruise along, on the way to a coral reef inside a national park, for an hour of snorkeling guide through crystal clear waters to admire beautiful coral formations & colorful tropical fish the Caribbean.
At Isla Mujeres visit the downtown of the island and go shopping.
Browse a range of interesting shops with everything from classic Mexican souvenirs to hand carved limestone and wooden sculptures.
The next stop is at the beach club, in where can swim, lie on the beach and, enjoy a delicious all you care to eat buffet lunch.
On the way back, weather permitting, you get the chance to try out the thrill of spinnaker sailing. The billowing sail lifts you up from a padded rope to let you dangle in the wind above the ocean, carrying you through a terrific experience you won´t forget.