Lanterns on the Wall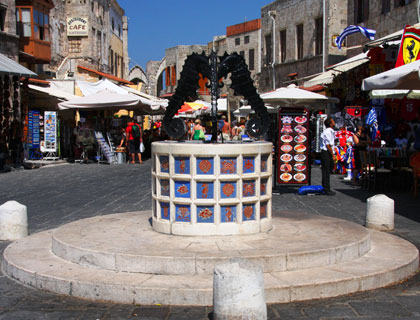 Collection of guests from accommodations and taken to meeting place outside of the Medieval City at the Church of St Francisco.
The group enters the old town through the Gate of St D'Amboise. The guests are taken for a guided walk down the narrow cobbled streets, and are given details about the fortifications, monuments and architecture of the city.
You will have some free time in order to explore the old town and the many shops selling the most attractive souvenirs such as traditional products and Greek goods.
Dinner is taken at one of the restaurants in the Old Town.
The group then meets again at another agreed point and walks through to the new city, Mandraki Harbour. Here the guests will board a boat for a short cruise around the harbour of the city, before boarding the bus again for the return to their accommodation.
Please note: Occasionally actual days of operation are subject to change. If this is the case we will endeavour to book a day as close as possible to your original preferred day. Should this not be acceptable a full refund will be made.